---
---
Rocker Type
Original Rocker Camber – This profile is shaped for a surfy and playful feel while maintaining superior performance and versatility.

Shape
Vario Power Grip Sidecut – Vario Power Grip Sidecut utilizes multiple radiuses creating extra contact points to enhance edge hold. A flat section in the rocker area provides a broad contact point when flexed, however when unbent allows the board to track straight and not catch. Flanking this straight section are two shallow radii which provide the second and third contact points. Towards the ends of the sidecut are deep radius which renders quick turn initiation and the final contact points.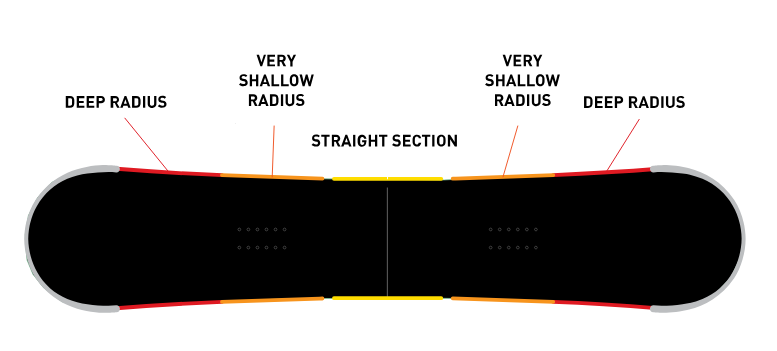 Low Profile Tip/Tail – A low profile in the nose and tail of the snowboard maximizes material contact with the snow for more powerful ollie/nollie pop and stability to your landings. Low Profile Tip/Tail also reduces the plowing effect in the nose for better glide to the next feature and superior float when it's deep.
Core
Press Flex Core – This rocker core design features 2 specific softer flex points between the feet creating better hinge points for ultimate pressing and ollie performance. The press flex wood core is the perfect foundation for freestyle performance.
Laminates
Bi-Lite Fiberglass – Bi-Lite Fiberglass combines many of the strength characteristics of Never Summer's STS fiberglass with an ultralight glass fiber matrix. This delivers incredible freestyle and freeride performance without sacrificing durability.
Freestyle Damping System – Specifically designed for some of our freestyle models, FDS utilizes thinner rubber foil for a lighter, snappier feel while still providing the legendary NS smooth ride.
Elastomeric Underfoot Stabilizers – Elastomeric Underfoot Stabilizers directly below the mounting area provide optimum vibration absorption and increase high-speed stability while reducing foot fatigue.
Sidewalls
Sintered P-Tex Sidewalls – Never Summer was the first snowboard company to use and perfect Sintered P-Tex Sidewalls, and they've never seen one crack. Unlike conventional ABS sidewalls that have a tendency to crack in colder temperatures, Sintered P-Tex Sidewalls maintain their integrity at any temperature.
Base
Durasurf Sintered 4501 Base – Crown Plastics has been the industry leader in sintered materials for over 36 years and has created the Durasurf 4501 sintered base exclusively for Never Summer. This high-density base is extremely fast and will provide unmatched performance and durability.
Additional Features
P-Tex Tip/Tail Protection – Boards with P-Tex Tip/Tail Protection have UHMW plastic, or P-Tex which is a softer molecular material that not only seals and protects the wood core, but also absorbs vibration and impact.
Terrain:

Freestyle, All-Mountain

Ability Level:

Beginner-Intermediate

Rocker Type:

Camber/Rocker/Camber

Shape:

True Twin

Flex Rating:

Soft

Binding Mount Pattern:

2x4

Core/Laminates:

Wood

Made in the USA:

Yes
| | | | | |
| --- | --- | --- | --- | --- |
| Size (cm) | 80 | 90 | 100 | 110 |
| Effective Edge (mm) | 530 | 630 | 710 | 810 |
| Tip Width (mm) | 203 | 210 | 221 | 233 |
| Waist Width (mm) | 178 | 181 | 191 | 202 |
| Tail Width (mm) | 203 | 210 | 221 | 233 |
| Sidecut Radius (m) | 2.85 | 3.42 | 4.18 | 5.03 |
| Stance Setback (in) | 0 | 0 | 0 | 0 |
| Stance Range (in) | 11 - 12.5 | 11.5 - 13 | 12.5 - 14 | 13.5 - 15 |
| Width | Regular | Regular | Regular | Regular |
---